HIMS VS ROMAN VS BLUECHEW
Are you experiencing inconsistent erections, or having trouble with achieving an erection in the first place? This might be a sign of erectile dysfunction (ED).
I can tell you one thing – a semi-erect penis, or a penis that becomes limp just before you begin love-making totally demeans you. I've been there too many times, believe me.
While reading this article, you probably understand what I am talking about, right?
Erectile dysfunction really hits your emotional well-being. It can destroy your relationship, and even send you to the cold arms of depression.
In this article, I am going to discuss Hims vs Roman vs Bluechew ED subscription services. I am going to break down information at a granular level, so you can decide which FDA-approved sexual health product works best for you.
We'll look at the causes of ED, the available ED treatments, and the best online pharmacies to buy ED treatments from.
But first, let's have a closer look at what exactly ED is.
What Is Erectile Dysfunction?
Erectile dysfunction is the inability, whether occasional or persistent, to achieve and/or maintain a penile erection sufficient for satisfactory sexual performance.
The International Index of Erectile Function (IIEF-5) divides ED into five categories:
5–7 – severe ED;
8–11 – moderate ED;
12–16 – mild to moderate ED;
17–21 – mild ED;
22–25 – no erectile dysfunction.
A series of tests is done to find out in which category you belong to. Don't worry too much about this classification, though, as once you decide to save your sex life, a physician will run specific tests to find out that information for you.
Common ED Treatments
All erectile dysfunction treatments increase blood flow to the penis. These drugs, containing phosphodiesterase type 5 inhibitors, enhance the effects of nitric oxide. This is a chemical compound that relaxes the penile muscles and allows increased blood flow to the penis.
I've been using ED meds for over 10 years now, and during that time, I've undergone several different treatment plans. Most of these have included the following tablets:
1) Sildenafil (the active ingredient in Viagra)
Sildenafil is a widely used medication for erectile dysfunction issues. In fact, it dates back to the early '90s, so it's been on the market for nearly 30 years now.
This FDA-approved pill reaches its effects within an hour after ingestion. However, if you are on a high-fat diet, it may influence its efficacy. This means that it may take up to two hours before the ingredients kick in.
Viagra, or a Sildenafil pill, stays in your bloodstream for a maximum of five hours.
Both Hims and Roman sell Sildenafil.
2) Tadalafil (the active ingredient in Cialis)
Tadalafil is another widely used erectile dysfunction medication. You can take it either as prescribed, or as a daily dosage. Always consult with a doctor to find a suitable treatment plan for you personally.
Tadalafil has longer-lasting effects in your system than Viagra – up to 36 hours.
If you are planning to have mind-blowing sex during the weekend, I highly recommend you buy Tadalafil and let it take care of the rest.
Tadalafil starts working around 30 minutes after intake, and eating or drinking after this doesn't affect its absorption speed.
You can get tadalafil from either Hims or Roman.
3) Avanafil (the active ingredient in Stendra)
Avanafil has similar properties to Viagra. However, some research indicates it is even more efficient than Viagra. I've tried it and, honestly, couldn't really tell the difference.
Avanafil is relatively new to the market, so research isn't as widespread compared to Sildenafil and Tadalafil.
You can get Stendra in doses of 50 mg, 100 mg, or 200 mg, etc.
Take Avanafil about 15 minutes before sexual activity. Most importantly, do not exceed the dosage that the physician has prescribed for you.
4) Vardenafil (Levitra)
Vardenafil is fairly similar to Sildenafil, but it has a longer half-life. While Sildenafil disappears from the body within four hours, Levitra can last up to six hours. That gives you 2 more hours to enjoy sex completely worry-free.
Vardenafil begins to work within an hour from its intake.
In most cases, a single dose of 10 mg is enough for men who struggle with ED.
ED Treatment Side Effects
Common side effects include dizziness, muscle pain, headaches, stuffy nose, flushing, or stomach upset.
If you have the following health conditions:
hypotension (low blood pressure);
heart disease or heart failure;
or you take drugs that contain isosorbide mononitrate and nitro-glycerine
always consult with your doctor before you start taking any ED meds.
Main Causes of Erectile Dysfunction
Here are a number of causes for ED, some of them very common and some not so common:
Your lifestyle, including alcohol intake, tobacco use, stress levels, drug use (e.g., cocaine), anxiety, depression, obesity, and fatigue. These can all cause ED. Notably, performance anxiety has a significant impact on your sex life.
Endocrine diseases – the endocrine system secretes hormones that regulate the sexual function, metabolism, mood, etc. Patients with these illnesses, such as chronic diabetes, experience nerve damage, which affects penis sensitivity.
Physical injuries to the penis and Peyronie's disease (development of scar tissue inside the penis).
Certain prescription medications and treatments for enlarged prostate or prostate cancer.
Sleep disorders – insomnia, sleep apnea, and restless legs syndrome.
Cardiac-related diseases, including high blood pressure, high cholesterol, clogged blood vessels (atherosclerosis).
Neurological conditions such as Parkinson's disease, Alzheimer's disease, Multiple Sclerosis, spinal or brain tumors, and temporal lobe epilepsy can all cause ED.
Low testosterone levels.
How to Get Erectile Dysfunction Treatments Online?
There are multiple online retailers that sell ED meds. That's why getting erectile dysfunction treatment online is a breeze.
The most popular online pharmacies are For Hims, Get Roman, and BlueChew.
Surely, you could buy drugs illegally, too, but in doing that, you risk getting counterfeit products or just getting scammed.
It's Important To Understand:
All online pharmacies have a very similar operations model. You need to:
firstly, complete an online questionnaire about your health;
then provide your contact details;
and prove you are at least 18 years old;
lastly, wait for an online doctor to approve your prescription, and send ED products your way.
How to Purchase ED Medications Online?
Online pharmacies make it incredibly easy to get the right medication for erectile dysfunction ASAP. Within 2-5 days, you'll have your prescription and can start enjoying better sex life.
Getting ED pills online is 100% legal. These are the same meds you get when you go to in-doctor visits. That means these are approved by the FDA, and are perfectly safe and effective.
Before you choose an online pharmacy, consider the following:
Is the online pharmacy licensed?
Do you need to get a doctor's prescription before they mail you the ED treatment?
Is the website secure?
To make things easier, I've compiled a comprehensive list of approved and trusted online pharmacies for you:
The process of getting ED meds from Bluechew is probably the easiest. BlueChew connects you to a licensed medical professional in your state who will determine whether you are suitable for their product.
BlueChew offers a free consultation and product delivery.
BlueChew is specifically dedicated to providing ED treatments (Roman & Hims also offer meds for premature ejaculation and hair loss treatments), which makes it the best online pharmacy among others.
Also, BlueChew is the only company that offers chewable tablets. These enter your bloodstream up to 3x faster than regular ED products.
How Does BlueChew work?
To get your subscription-based prescription ED meds, head over to BlueChew.com. Start by filling in the online questionnaire. There are about 11 men's health-related questions.
These questions determine your eligibility for the ED treatment. Later, a physician reviews your responses in detail. You'll get a prescription if everything is okay and you are cleared for the meds.
With BlueChew, you have two choices: either Sildenafil (30mg or 45mg), or Tadalafil (6mg or 9mg). They offer four different plans – Active, Busy, Popular, and PRO. Each of these plans determines how many tablets will be shipped to your door in a month.
The number of sex pills you need per month depends on the severity of your ED, and the rough number of times you have sex in a month.
BlueChew Pricing for Erectile Dysfunction Medications:
Sildenafil Plan:
$20 – 6 tablets/month
$30 – 10 tablets/month
$50 – 17 tablets/month
$90 – 34 tablets/month
Tadalafil Plan:
$20 – 4 chewables/month
$30 – 7 chewables/month (This is the plan I use)
$50 – 14 chewables/month
$90 – 28 chewables/month
BlueChew Pros
Offers chewable tablets, which eliminates the need to swallow pills;
Easy to choose – either Sildenafil or Tadalafil;
Multiple subscription options with favorable pricing;
Delivered in a plain package right to your door. No one will ever find out that you order ED meds online.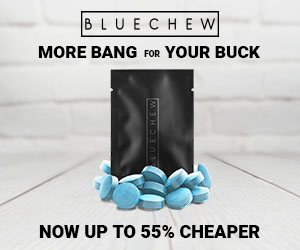 BlueChew Cons
Not everyone is approved for their ED treatment plans.
Hims offers different types of subscription medications (hair loss, premature ejaculation, low testosterone, skin health, and ED) for adult men of all ages. If you are having issues with any of the issues described before, Hims might just be the right online pharmacy for you.
How Does Hims work?
Hims is very similar to BlueChew. You need to fill in the online health questionnaire, have an online consultation with a physician, and of course, show them your ID.
With Hims, you can choose to get your products delivered monthly, quarterly, bi-annually, or annually.
I find this a little odd, but Hims charges a membership fee of $10 per month.
For erectile dysfunction treatment, Hims offers five treatment options:
Generic Sildenafil
Viagra (Sildenafil citrate)
Tadalafil (Generic Cialis)
Cialis (Branded Tadalafil – much more costly)
Stendra (Branded Avanafil – much more costly)
Pricing for Hims ED Medicine
Hims ED medication comes with discounts, but only if you buy a 12-month supply at once.
For instance, if you choose Sildenafil, you pay $888 a year ($74 a month). However, if you opt for the monthly supply, you'll pay $84 a month. As a comparison, BlueChew pricing starts at $20 per month.
Hims prices per dose:
Generic Viagra – $34
Stendra – $35
Viagra – $70
Tadalafil (generic version) – $240 per month
Cialis (branded) – $570 per month
Hims Pros
Hims offers 5 different ED products;
Hims also offers products for hair loss, premature ejaculation, etc.;
Hims offers a selection of monthly, quarterly, semi-annual, and annual deliveries.
Hims Cons
Hims doesn't give out very detailed information – you only get it after you begin the purchase process.
Hims vs BlueChew
Hims offers a wide range of medications, while BlueChew entirely focuses on ED meds. In our opinion, it is better as their focus is set only on one category. This means they are always aiming to deliver the best possible service.
Roman, like Hims, offers products in different men's health categories.
How Does Roman Work?
Roman is a pretty straightforward website.
Start by filling in your health details, and then wait until a healthcare professional contacts you. This will happen within 24 hours.
During the consultation, the doctor will ask you specific information about your condition. The discussion with your online doctor consists of describing your symptoms and your personal medical history.
Roman offers three subscription-based ED medicines:
Sildenafil – doses ranging from 25mg to 100mg;
Viagra – available in 25 mg, 50 mg, or 100 mg doses;
Cialis – available in 2.5mg, 5mg, 10 mg, or 20 mg.
Pricing for Roman's Erectile Dysfunction Treatments
Roman is a men's health company. Roman's pricing is a tad better compared to Hims, while still not as good as BlueChew.
Sildenafil pricing is $6 per 60 mg dose, Viagra price $34 per 50mg dose, and Cialis price $44 for one 20mg dose.
A 2.5mg Cialis dose goes for $17 for the branded pill, and $11 for the generic version. One month's dose, therefore, costs $510 and $330, respectively.
Roman Pros
Roman offers a wide range of ED medication;
Cheaper appointments;
Roman's monthly subscription ensures you don't miss out on your drugs.
Roman Cons
Roman is costly for those without insurance;
Roman is not available in all states.
Hims vs Roman
Both Hims and Roman platforms offer ED medication, but Roman offers ED drugs at a better price. Other than that, when comparing Hims vs Roman, they don't actually differ remarkably.
Roman vs BlueChew
Roman has a broad medication offering base. Therefore, it is a suitable choice for many people with different conditions. On the contrary, BlueChew sells only two chewable ED drugs. If you really need ED treatment, in my opinion, BlueChew might be more helpful with its specifically targeted product offering.
Lemonaid is an online doctor's office, pharmacy, as well as a delivery system. Beyond ED treatment, this online pharmacy offers comprehensive healthcare tests and treatments.
How Does Lemonaid work?
Lemonaid charges $25 for an online video consultation (not mandatory). You can just fill in the online questionnaire and wait for a doctor's prescription at your local pharmacy. It's not as convenient as Hims, Roman or Bluechew, which ship products right to your doorstep.
For ED treatment, a doctor will prescribe either Generic Viagra or Cialis.
Lemonaid's Erectile Dysfunction Pricing
Generic Viagra (Sildenafil) costs $60, while generic Cialis (Tadalafil) goes for $220. You also need to pay a $25 consultancy fee on top.
Lemonaid Pros
Has a broad spectrum of services;
An optional live consultation opportunity;
Free, fast, and discreet shipping (same as for Hims, Roman and BlueChew);
Pay only after receiving treatment.
Lemonaid Cons
Doesn't accept insurance.
BlueChew vs Lemonaid
BlueChew is a strictly ED-focused company. It offers two types of meds (Sildenafil & Tadalafil) to solve your ED problem. Thus, it might be a better solution for dealing with ED than Lemonaid, which offers treatments for various conditions.
Blink Health offers both branded as well as Generic Viagra and Cialis. This online pharmacy is managed by US licensed medical professionals.
Note that Blink Health deals with a comprehensive range of men's health issues, same as with Hims or Roman.
How Does Blink Health Work?
Blink Health is pretty straightforward. You pay $5 for a consultation, fill in the online questionnaire and the doctor prescribes the right treatment and dosage for you. A very similar process to Hims, Roman and BlueChew.
Blink Health Pricing for Erectile Dysfunction Medications
A 5mg pack of Tadalafil which contains 10 pills costs $59.95.
Blink Health Pros
They have an app;
Easy ordering process (as with Hims, Roman and Bluechew);
Free delivery;
No hidden fees attached to services.
Blink Health Cons
Fluctuating prices (not the case with BlueChew, Hims and Roman);
Doesn't take insurance.
PlushCare offers personalized virtual primary care, as well as treatments for ED among their services. It also deals with mental health issues.
How Does PlushCare Work?
PlushCare connects you with doctors via an app or a desktop computer. Unlike others, it emphasizes on booking appointments to deal with your concerns.
Once booked in, download their app, and use it to communicate with a doctor. After you've been diagnosed, the doctor will send your prescription pills to your closest pharmacy.
Doctors can prescribe Sildenafil, Vardenafil, Tadalafil, or Avanafil.
PlushCare pricing
PlushCare appointments cost about $30 if you have insurance. However, without insurance, it costs $99.
Sadly, I couldn't find the prices of the ED treatments on their website. In my opinion, this lack of transparency can be costly in the end.
Pros
Accepts almost all types of insurance;
Conveniently book an appointment through their app, desktop or laptop;
Scheduling flexibility.
Cons
Rather expensive consultation fee;
Lack of transparency with pricing.
BlueChew vs PlushCare
I find it a bit difficult to compare BlueChew to Plushcare. Mainly because Plushcare doesn't offer details on their website that a buyer would find vital (such as their pricing). For that reason, I tend to think BlueChew might be a better fit to shop your ED treatment from.
Keeps doesn't offer ED treatments. Instead, it provides hair loss solutions for men.
How Does Keeps Work?
Like other sites, you have to consult with a doctor, for which you'll pay $5. The doctor assesses your situation and prescribes a medication that corresponds to your condition.
The possible prescription drugs include 1 mg Finasteride, 5% Minoxidil solution, 5% Minoxidil Foam, and 2% Ketoconazole shampoo.
So, if you are looking for ED treatment, Keeps isn't the right place.
Keeps Pros
Has board-certified doctors;
Free initial consultation;
50% off your first order.
Keeps Cons
Treatments are only ideal for male baldness;
Not available in all states.
BlueChew vs Keeps
Keeps has no solutions for ED. You should consider this site if you have hair loss issues. Otherwise, for your erectile dysfunction problems, BlueChew might be the right place.
Other Erectile Dysfunction Solutions
1) Natural Remedies
Research shows that some natural compounds can also treat ED. These compounds include Panax ginseng, Rhodiola rosea, L-arginine, and acupuncture.
You may also consider using natural formulations. However, definitely consult with your healthcare provider first.
2) Kegel Exercises
Engaging the muscles of the pelvic floor can be a huge boost in treating erectile dysfunction. These muscles are activated during sex, and these increase blood flow to the groin area.
Studies show that stronger pelvic floor muscles increase sexual performance.
Kegel exercises are the best way to strengthen the pelvic floor muscles. Just stop your urine stream midway. You'll feel your anus get tighter as the bladder moves up. Meanwhile, the muscles in your buttocks, thighs, and abdomen should be relaxed.
Did you notice which muscles you used?
These are your pelvic floor muscles, just what you need to strengthen to relieve your ED issues.
How To Perform Kegel Exercises?
Empty your bladder first, and then sit or lie down with your knees bent.
Breathe out, then tighten the muscles of your pelvic floor, and hold for five seconds.
Relax the muscles for five seconds, while breathing out, and repeat.
For optimal results, do Kegel exercises three times a day.
Don't perform Kegel exercises while urinating more than twice a month. This can actually weaken the pelvic floor muscles with time. Additionally, it may damage your bladder and kidneys.
3) Prevention
If you make significant changes to your lifestyle, you can escape the wrath of erectile dysfunction.
For instance, quit smoking, cut the excess weight, and drop illegal drugs. Besides, following a healthy diet and engaging in enough physical activity all reduce the odds of getting ED in the first place.
Should I try BlueChew?
BlueChew offers proven and scientifically tested medication for treating erectile dysfunction.
BlueChew is affordable and the ordering process is straightforward. Moreover, the consultation with a licensed physician is free and they deliver ED prescription meds to your doorstep.
Could you imagine getting your ED prescription for as low as $20 a month!?
That's why I believe that BlueChew is the right place if you are struggling with erectile dysfunction issues.
Hims vs Roman vs BlueChew Conclusion
Sex is exciting. But at times, your penis may say NO! This can force you out of the game, and it's very embarrassing.
So what to do about it?
Many online retailers promise positive results within a short timeframe.
Their advantage? Providing prescription-grade medication discreetly and affordably.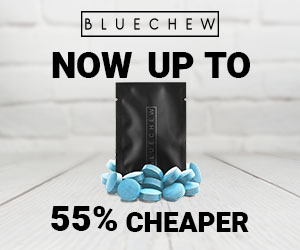 It's expensive and time-consuming to try out all the available retailers. That's why we recommend starting off with BlueChew.
BlueChew provides FDA-approved ED medications that result in stronger erections. The company offers many subscription plans, plain packaging, and a straightforward online questionnaire which is easy to complete.
Above all, chewable pills, both Sildenafil or Tadalafil version of BlueChew, are something revolutionary in ED treatment word.